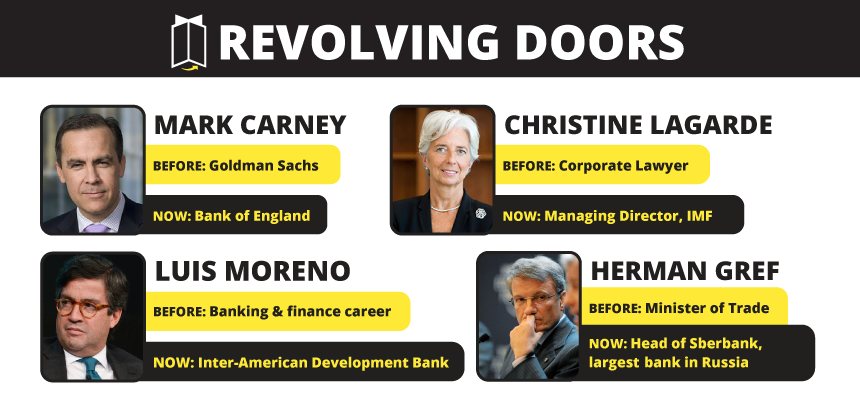 Peter Brabeck-Letmathe
Chairman of the Board, Nestlé, Switzerland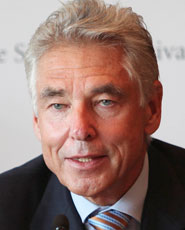 "If Nestlé and myself have become very vocal in the area of water, it was not because of any philanthropic idea, it was very simple: by analyzing… what is the single most important factor for the sustainability of Nestlé, water came as [the] number one subject."
Corporate interlocks:* Exxon Mobil, Credit Suisse, AXA Versicherungen, Roche, Alcon
Lobbying groups: Hong Kong-Europe Business Council, European Round Table of Industrialists (ERT), International Association for the Promotion and Protection of Private Foreign Investments (APPI)
Policy-making and advisory groups: Bilderberg Group, 2030 Water Resources Group, International Council of the Bretton Woods Committee, The Prince of Wales International Business Leaders Forum (IBLF)
Nestlé's corporate malfeasance: In 2015, Nestlé sparked protests in California, Oregon and British Columbia for increasing of bottling of water despite unprecedented drought. Also known for breaching WHO guidelines for marketing of baby milk, accused of buying cocoa from plantations in Ivory Coast that use child slaves (International Labour Rights), history of imposing bottling water plants against community wishes in US and union-busting and alleged complicity with paramilitaries in Colombia. www.corp-research.org/Nestlé
| | |
| --- | --- |
| KNOWN FOR | Promoting the food giant as a "nutrition, health and wellness" company and declaring human right to water as an 'extreme' view. |
Mukesh D. Ambani
Chairman and Managing Director, Reliance Industries, India; multi-industry conglomerate that accounts for 15% of India's exports.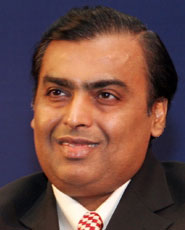 "His influence is huge. Whatever is happening he knows. He is able to post [bureaucrats] to positions and get ministers appointed who are favourable to him." – Former Indian cabinet minister
Corporate interlocks: Bank of America, Indian Petrochemicals, Citigroup, McKinsey
Political friends include: PM Narendra Modi, Rahul Gandhi
Policy-making and advisory groups: Prime Minister's Council on Trade and Industry, India, National Council of Applied Economic Research, Millennium Development Goals (MDG) Advocacy Group
Lobbying groups: Indo-US CEOs Forum, Japan-India Business Leader's Forum, India-Russia CEOs Council, The Business Council and Asia Business Council
Thinktanks:* Observer Research Foundation, Brookings Institute, Council on Foreign Relations, Indian Institute of Management
Academic ties:** London School of Economics, Pandit Deendayal Petroleum University
Media/Cultural: Reliance owns 95% shares in Infotel, a TV consortium of 27 TV channels. Owns commercial rights for Indian football
Reliance Corporate malfeasance: Accused of price fraud in Andhra Pradesh, insider trading and breaches of contract. Ambani responded to accusations in 2014 with legal notices including to own editor-in-chief. In 2015, Reliance and Ambani faced both tax and fraud investigations related to accusations of tax evasion and corporate espionage that resulted in the theft of classified documents from the petroleum ministry in Delhi.
| | |
| --- | --- |
| KNOWN FOR | Being India's richest man. He has a $1 billion home with 27 floors for a family of six. |
Klaus Kleinfeld Chairman and Chief Executive Officer, Alcoa, USA
(Aluminium/lightweight metals)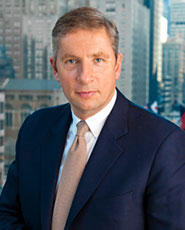 "Offshoring is a funny thing for an international company. Where is your shore? My shore is as much in India and China as it is in Germany or the U.S."
Career: Prior to Alcoa at Siemens
Corporate interlocks: Nokia Siemens, Citigroup, Morgan Stanley, Ciba-Geigy, Bayer, Hewlett-Packard, Turner Corp, Osram Sylvania
Lobbying groups: US-Russia Business Council, US Chamber of Commerce, US-China Business Council, European Round Table of Industrialists, Transatlantic Business Dialogue
Policy-making/advisory groups:Partnership for New York City, Inc, Bilderberg, Trilateral Commission
Cultural: Metropolitan Opera
Thinktanks:* Brookings Institute
Siemens and Alcoa corporate malfeasance: Siemens and Alcoa have both faced many investigations including by US, Germany, China, Hungary, Indonesia, Norway and Bahrain for corporate corruption during Kleinfeld's tenure.
| | |
| --- | --- |
| KNOWN FOR | Kleinfeld was accused by Siemens itself for "failing to prevent corruption". He denies charges but paid estimated two million euros to settle. |
Christine Lagarde
Managing Director, International Monetary Fund (IMF), Washington DC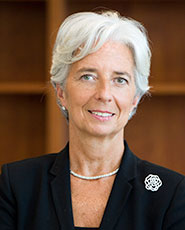 Asked by the Guardian in 2012, she agreed it was 'pay back time' for Greece: "Do you know what? As far as Athens is concerned, I also think about all those people who are trying to escape tax all the time."
Corporate and financial political career: Baker & McKenzie, Minister of Trade, Minister of Economy (France), Inter-American Development Bank, European Investment Bank
Corporate interlocks: ING Group
Academic ties:** Sciences Po Aix, ESADE
Policy-making and advisory groups: Bilderberg
| | |
| --- | --- |
| KNOWN FOR | Hardline support for the imposition of austerity on Greece. In December 2015, French courts announced they would try her for "negligence" for her role in a 2008 €403 million arbitration deal in favour of businessman Bernard Tapie. |
Indra Nooyi
Chairman and Chief Executive Officer, PepsiCo, USA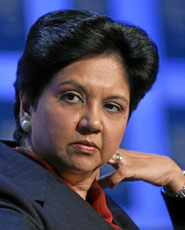 "I hear my own daughters talking about big companies polluting the environment, and then I realise they are talking about companies of which one I am running. But when I tell them to read the things we are doing, then they realise we are doing good things."
Corporate career: Johnson & Johnson, Mettur Beardsell, Asea Brown Boveri, Boston Consulting Group, PlaNet Finance, Loctite
Corporate interlocks: Motorola Solutions, Timberlad
Lobbying groups: US-China Business Council, US-India Business Council, Grocery Manufacturers Assoc., The Consumer Goods Forum
Policy-making and advisory groups: Audit & Operational Risk Committee, Federal Reserve Bank of New York
Thinktanks:* Peterson Institute for International Economics
Academic ties:** Tsinghua University, Yale University
Cultural/social: Lincoln Center for the Performing Arts, U.S. Soccer Federation, Healthy Weight Commitment Foundation, American Academy of Arts & Sciences, World Justice Project, Asia Society
Pepsi Corporate malfeasance: Accused in India of consuming excessive groundwater in drought-prone regions and allowing pesticide residues to get into soda. In many countries for encouraging unhealthy soda consumption.
Klaus Schwab
Founder, Executive Chairman of the World Economic Forum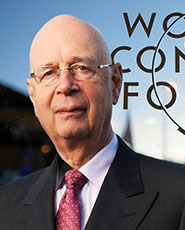 "The sovereign state has become obsolete… [we need] a 'global issue alliance.'"
Corporate academic career: German Machine-building Association (VDMA), Sulzer Escher Wyss, Professor of Business Policy, University of Geneva
Corporate interlocks: UUSWeb, LLC, National Bank of Kuwait, SAirGroup , Investcorp Bank, Lutetia Capital, Alcatel-Lucent, Asset Management.Com
Policy-making and advisory groups: UN High-Level Advisory Board on Sustainable Development, UN Committee for Development Planning, Sustainable Energy for All, Strategic Attractiveness Council, French Presidency, Bilderberg Group
Academic ties:** University of Tokyo, Royal Academy of Morocco, Guanghua School of Management, Peking University, JFK School of Government, Center for International Development, Harvard University, MIT
Thinktanks:* The Peres Center For Peace, Foreign Policy Association
Media / Cultural: Lucerne Festival, Daily Mail, World Link Magazine, Ibrahim Hussein Museum and Cultural Foundation (Malaysia)
Heizo Takenaka
Director, Global Security Research Institute, Keio University, Japan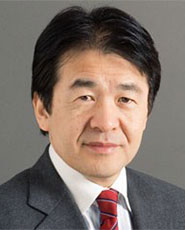 "The public are clever. If offered some help, most of them only demand money." (in wake of 2011 earthquake and tsunami)
Academic political career: Professor at Osaka University, Minister for Economic and Fiscal Policy and Minister for Internal Affairs and Communications and Minister for Privatization of Postal Services
Corporate interlocks: Abraaj Capital, Pasona Group, Asahi Breweries Ltd, Pacific Rim Partners WI Harper Group
| | |
| --- | --- |
| KNOWN FOR | Privatisation of post office in Japan which prompted widespread public opposition; nevertheless Takenaka has said he hopes it will catalyse further privatisation of state assets. There has also been political controversy over his failure to make contributions to state pension plan and switching residential status between Japan and the United States in order to avoid income tax. |
Jack Ma Yun
Executive Chairman, Alibaba Group, People's Republic of China (Internet Trading Company)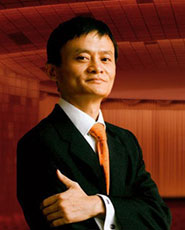 "I don't want to be liked. I want to be respected."
Corporate interlocks: oftBank, Huayi Brothers Media, Zhejiang Taobao Network, UCWeb, Yunfeng Capital and Yunfeng Fund II, Tao Bao Holding, Alipay E-Commerce, Alimama Ltd, Alisoft Holding, Koubei Holding, China Y Holding
Foundations: The Nature Conservancy, Breakthrough Prize in Life Sciences Foundation
Policy-making and advisory groups: China International Electronic Commerce Centre of the Ministry of Foreign Trade and Economic Cooperation (MOFTEC), APEC Business Advisory Council
Thinktanks:* Paulson Institute
| | |
| --- | --- |
| KNOWN FOR | Flotation of Alibaba in September 2014 made the firm the 18th biggest in the world and Jack Ma Yun the richest man in China worth $21 billion. |
Herman Gref
Chairman of the Board and Chief Executive Officer, Sberbank, Russian Federation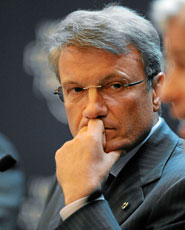 "I share [the] view… that there should be as much free market as possible and as much government as necessary."
Political/corporate career: St. Petersburg Mayor's office, Minister for Economic Development and Trade of Russia, and Sberbank (since 2007)
Corporate interlocks: OAO Svyazinvest, Aeroflot, Denizbank Anonim Sirketi, Russian Venture Company, Gazprom, Lukoil, Yandex
Policy-making and advisory bodies: Governor of The European Bank for Reconstruction and Development, Government Commission for International Technical Aid, Federal Commission for Securities Market
| | |
| --- | --- |
| KNOWN FOR | Saying Russia should be more open to foreign investors and more freedom for private enterprise. |
Mark J. Carney
Governor of the Bank of England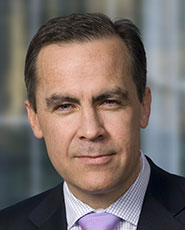 Political / corporate career: 13 years with Goldman Sachs before Governor of Bank of Canada and then Senior Associate Deputy Minister of Finance
Policy-making and advisory groups: Chairman of the Monetary Policy Committee, Financial Policy Committee, Prudential Regulation Authority, Financial Stability Board (FSB), Bank for International Settlements, Committee on the Global Financial System, European Systemic Risk Board, Group of Thirty, Bilderberg
Goldman Sachs Corporate malfeasance: Frequently fined for insider trading, breaking financial rules on trading, fraud and for role in the sub-prime crisis that prompted the global recession from 2008.
www.corp-research.org/goldman-sachs
| | |
| --- | --- |
| KNOWN FOR | 'Saving' Canada from the US financial crisis, but he also opposed the "Volcker Act" (designed to prevent large American banks from trading securities on their own account – in other words speculating). In 2015, Carney encouraged the quick sale of Royal Bank of Scotland shares at low prices that analysts say shortchanged UK taxpayers of £1 billion pounds. |

Luis Alberto Moreno

President, Inter-American Development Bank, Washington DC

Corporate political career:Praco, TV Hoy, WestSphere Capital (private equity), Luis Carlos Sarmiento Organization (banking & finance), Instituto de Fomento Industrial (IFI), Minister of Economic Development, Ambassador of Colombia to the US

International Institutions: Inter-American Investment Corporation (IIC), Multilateral Investment Fund (MIF), Broadband Commission for Digital Development

IADB record: Long criticised for negative impacts of funded operations on the environment and on indigenous peoples and promoting liberalisation / privatisation

KNOWN FOR winning US $4 billion in assistance programs for Colombia as Ambassador to US and as one of the leading promoters of a Colombia-U.S. Free Trade Agreement.

Angel Gurría

Secretary-General, Organisation for Economic Co-operation and Development (OECD)

"We cannot blame business for using the rules that policy makers themselves have put in place." (Gurria defending corporate tax avoidance in 2013)

Political career: National development and trade banks in Mexico, Minister of Foreign Affairs & Minister of Finance in Mexico, negotiated North American Free Trade Agreement

Policy and advisory groups:Inter-American Development Bank (BID), Center for Global Development, International Task Force on Financing Water for All, UN Secretary General Advisory Board (UNSGAB), Global Green Growth Forum (3GF), Global Commission on Internet Governance, Global Commission on the Economy and Climate, Latin-American Shadow Financial Regulatory Committee

Academic ties:** Royal Academy of Economic and Financial Sciences of Spain

KNOWN FOR being the highest-earning Mexican government official, yet called 'scissor hands' because of austerity measures he introduced to forestall a financial crisis.

Orit Gadiesh

Chairman, Bain & Company, USA (Management Consulting)

Political corporate career: Office of the Deputy Chief of Staff of the Israeli Army; with Bain & Company since 1977

Corporate interlocks: WPP, Royal Philips, Englishtown, Think Tools, Digitas, Vonage Holdings, Renova Management

Policy/advisory groups: British-American Business Council, Governor's Board of Economic Advisers in Massachusetts, Advisory Board to the President of the World Bank and Kennedy Center, International Business Leaders Advisory Council to the Mayor of Shanghai, Advisory Council for the Mayor of London

Thinktank/cultural: Atlantic Council, Peres Center for Peace, Council on Foreign Relations, Eisenhower Fellowships

Academic ties:** HEC School of Management, France, Wharton School at University of Pennsylvania, Kellogg School at Northwestern University, CEIBS China, University of Oxford, Harvard Business School

Cultural: Metropolitan Museum of Art, New York

Patrick Aebischer

President, École Polytechnique Fédérale de Lausanne (EPFL), Switzerland

Academic/corporate career:Director of Gene Therapy Centre in Lausanne University. Founder of 3 biotechnology companies

Corporate interlocks: ETH, Lonza Group, Nestlé Health Science, Eclosion, Centre Suisse d'Electronique et Microtechnique, Coursera, Anecova, Link Medicine, Inspired Capital, StemCells, Novartis Venture Funds

Academic ties:** American Institute for Medical and Biological Engineering, Swiss Academy of Medicine, Global University Leaders Forum, Aalto University

George Yeo

Visiting Scholar, Lee Kuan Yew School of Public Policy, National University of Singapore

Political Academic career:Brigadier-General, Singapore Armed Forces, Ministry of Defence, Minister for Information and the Arts, Minister for Health, Minister for Trade and Industry, and Minister for Foreign Affairs

Corporate interlocks: Kerry Group, the Kuok Group, KLN Group, Wilmar International, Mitsubishi

Policy-making and advisory groups: HK Economic Development Commission, Vatican Council for the Economy

Academic ties: Peking University, Nalanda University, Harvard Business School, IESE Business School, Christ's College, Cambridge

Thinktanks:* Nicolas Berggruen Institute's 21st Century Council

Susan Hockfield

President Emerita and Professor of Neuroscience, Massachusetts Institute of Technology (MIT), USA

"Yale is better than a democracy."

Academic career: MIT, Yale, University of California SF,Woods Hole Oceanographic Institution, Association of American Universities (AAU)

Corporate interlocks: General Electric Company, Partners HealthCare System, Qualcomm, Astra Pharmaceuticals

Thintank/foundations: Carnegie Corporation, Council on Foreign Relations

Policy-making and advisory groups: Advanced Manufacturing Partnership, National Security Higher Education Advisory Board, U.S. Science Envoy, U.S. Department of State (2012-13), Council on Competitiveness

Cultural: Boston Symphony Orchestra

KNOWN FOR leading MIT administration that refused plea deal and insisted on jail time for 'freedom of academic information' activist Aaron Swartz (who later committed suicide).

Jim Hagemann Snabe

Chairman, Centre for Global Industries (WEF grouping)

Corporate career: Software giant SAP (1990 to 2010)

Corporate interlocks: Bang & Olufsen, Danske Bank, Digiscope, IVS, Linkage Software, Allianz, Siemens, Crossgate, Mannaz

Policy and advisory groups:German Government's Information Technology (IT) Committee

SAP Corporate malfeasance:Fined for stealing Oracle's software plus lawsuit by California's state controller over a payroll software implementation that cost taxpayers more than $250 million; litany of failed software implementation projects.

Joe Schoendorf

Accel Partners, USA (equity firm)

Corporate career: Hewlett-Packard, Industrial Networking, Ungermann-Bass, Apple Computer

Corporate interlocks:Macromedia, Veritas, All.com, Elemental Software, Biztravel.com and Cybersafe

Policy-making and advisory groups: Consultant to the Ministry of International Trade and Industry (MITI) in Japan

H.M. Queen Rania Al Abdullah of the Hashemite Kingdom of Jordan

Queen

Policy-making and advisory groups: UN Girls' Education Initiative (UNGEI), UN Secretary-General's High Level Panel on the Post-2015 Development Agenda

Foundations and Organisations: United Nations Foundation, International Youth Foundation (IYF), Foundation for International Community Assistance (FINCA), Forum of Young Global Leaders, GAVI Fund, National Council for Family Affairs (NCFA), Arab International Women's Forum, Jordan Cancer Society

KNOWN FOR her prolific tweeting with 3.5m followers

Min Zhu

Deputy Managing Director, International Monetary Fund (IMF), Washington DC

Political career: Bank of China, World Bank, Institution of International Finance

Academic ties:** Princeton University, Fudan University, Chicago University, Johns Hopkins

Peter Maurer

President, International Committee of the Red Cross, Switzerland

Political career: Swiss Mission to the UN, Department of Foreign Affairs

Al Gore

Vice-President of the United States (1993-2001); Chairman and Co-Founder, Generation Investment Management

Corporate-Political Career: While Al Gore is most known his environmental activities, he has also had a corporate career at the venture capital firm Kleiner Perkins Caufield & Byers in 2007 and is Chair of Generation Investment Management. He sits on the board of Apple and is a senior adviser to Google.

Katherine Garrett-Cox

Chief Executive Officer, Alliance Trust PLC

Career: Worked in investment business since mid-1990s and former Young Global Leader of WEF. Earns £1.3m a year at Alliant Trust.

Corporate Interlocks: Deutsche Bank

Cultural: Trustee of Baring Foundation

Martin Senn

Chief Executive Officer, Zurich Insurance Group

Corporate Career: Worked in financial sector since-mid 1990s

Board Interlocks: The Institute of International Finance, Swiss-American Chamber of Commerce, The Geneva Association, Lucerne Festival

Lobby Groups: European Financial Services Round Table, The Pan European Insurance Forum (PEIF)
THIS INFOGRAPHIC — a collaboration of the Transnational Institute and Occupy.com — illustrates some dimensions about why we believe the World Economic Forum is fundamentally about increasing corporate profits and rewarding political elites rather than "improving the state of the world." It is an undemocratic, unaccountable and illegitimate institution that, far from improving the world, has over decades reinforced the global crisis of inequality, poverty, and environmental destruction.
---
FOR A MORE DETAILED ANALYSIS SEE:
The Davos Class, Susan George, Transnational Institute
The World Economic Forum: Global governance in a world of resistance,
Andrew Gavin Marshall, Occupy.com
State of Power 2015, Transnational Institute
Source: Transnational Institute – Who are the Davos Class?